Our playtime is like no other!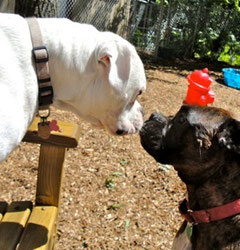 Your dog will receive several supervised playtimes everyday throughout their stay with us. As a matter of fact, your dog will be out of his/her kennel more than in it.  We love to give our guests free roam as long as they get along with others.   Dogs must have the social skills required for group play time.  
   If your dog doesn't get along with others, or you prefer your dog to have private play, that is no problem.  If a dog can't play with others, for whatever reason, we make sure they get their fair share of play time too.  Our indoor playroom, large fenced-in play yard, doggy size pools, fun toys, and playground equipment will guarantee your dog will go home dog tired!
   We consider it a real privilege caring for your dog while you are away, and seeing that they are loved, safe,  and have a good time is our top priority!