Best facility in the area. Best price too!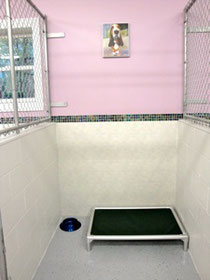 BOARDING - $31.00 per day
DOGGY DAY CARE - $24.00
   Unlike some boarding facilities, we don't charge extra for administering medication, play time, or special needs your dog may require.  Everything your dog needs to stay tail-waggin' happy and healthy is included in one flat fee. 
   If you have more than one canine kid, the rates are $31 per day for the first dog and $25 for the 2nd dog.  Each additional dog is $21.00 per day.  
   *Day of drop off counts as first day, no matter what time dogs arrive.  However, there is no charge the day of pick up if dog is picked up BEFORE NOON. If picked up after 12 noon, that day will count as another day of boarding.
   Please ask about our special rates available for guests that are with us more than 21 consecutive days.
PRICE INCREASE EFFECTIVE 9/1/2018:  Boarding: $33.00 per day
                                                                  Daycare:  $26.00 per day
Call the office for more details and package rates.
Sorry, we do not accept credit or debit cards at this time.  Cash or check only.