Welcome to Just Like Home!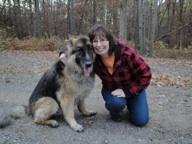 Welcome to the ultimate canine bed and breakfast experience. Welcome to a place JUST LIKE HOME! Here we treat your dog as we do our own. Rest assured your dog will receive a lot of love, hugs, and kisses, as well as wonderful socialization and play time with other dogs.
Posted 6/11/19:  JUST LIKE HOME is looking for someone to join our staff.  Shifts are 7am - 2 pm and 2pm - 8:30pm.  Must have good work ethics, be responsible, dependable, self-motivated, and love dogs.  We're looking for about 20-25 hours per week, Mon. & Tues. evenings, possible fill ins during the week, and 3 out of 4 weekends.  THIS IS NOT A SUMMER JOB - This is a permanent part time job. Must be 18 or over.  If you're interested and love dogs, please call Sue at 612-388-3433 today!
We are a BBB Accredited Business since 2012 with an A+ rating!