Welcome to Just Like Home!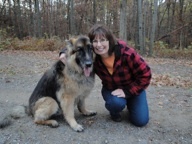 Welcome to the ultimate canine bed and breakfast experience. Welcome to a place JUST LIKE HOME! Here we treat your dog as we do our own. Rest assured your dog will receive a lot of love, hugs, and kisses, as well as wonderful socialization and play time with other dogs.
JUST LIKE HOME is currently looking for a new staff member (as of March 27, 2017).  This is a year-round permanent position, not a summer job.  You must be 18 or older to apply.  Hours are Thursday 2:00 - 8:30 p.m. and weekends.  It would be great also if you could be flexible to fill in for other staff when needed.  If you are dependable, trustworthy, and LOVE DOGS, we'd love to have you join our team!  Please call Sue or stop in today to fill out an application.
We are a BBB Accredited Business since 2012 with an A+ rating!