Our home is just like your home.
Just Like Home Staff
About the Top Dog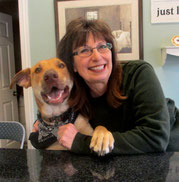 Susan Engelsman
Owner of Just Like Home Canine Bed & Breakfast Inc. has been a dog lover and owner all of her life. She has trained dogs and had her own dog grooming business for many years. 
The kennel was designed by Sue's late husband, Andy, and opened in May of 2011.  Since that time, Sue has been hard at work making her canine bed and breakfast the best it can be for the dogs in your life.                        
Experience Counts
Business Owner
Dog Trainer for 12+ years.
Dog Groomer
Raised/trained 10 puppies to completion for Can Do Canines Service Dogs, and fostered many puppies for them 'short term'.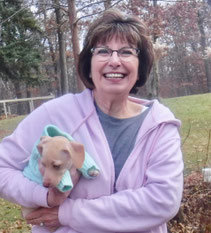 The Engelsman household is home to seven 'animal kids'  - Cowboy, a mixed breed; Janie, a little beagle/terrier mix, Jodi, a doberman, Vinnie, a collie;  Annabelle, a chihuahua terrier mix; and Willow, a true 'mutt'!  : )   Our beautiful German shepherd, Knight,  passed away in May of 2019.   Last but not least, there is "Meany" the cat, who enjoys having the house to himself during the day when everyone else is at 'work'.
Susan Lehr
Susan and her family live in Princeton, Minnesota where she spends her free time working with kids in 4-H.  She helps them train their own dogs in showmanship, agility, and ralley obedience to prepare them for participation in county and state fairs.  She has shown her own Great Danes in showmanship at many dog shows. Susan has several pets of her own, to mention just a few - ferrets, goats, dogs, cats, a snake, and a guinea pig.  Susan loves spending time with all the dogs here at Just Like Home, making sure they get all the love and attention they deserve to make them feel at "home" and insure they have a great experience while here.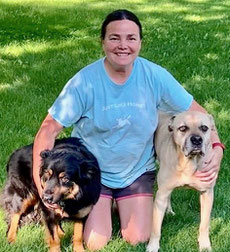 Ann Sheehan
Ann has been on staff with Just Like Home since the fall of 2014.  She has been a great asset for us with her dog/animal knowledge.  Ann lives in Big Lake and is the proud mom to 12 dogs, 5 horses, 1 pony, 2 mini donkeys, 2 goats, 2 sheep, and 1 pot bellied pig!  Whew!  In the past, Ann and her horses have volunteered their time working with kids preparing for the Special Olympics.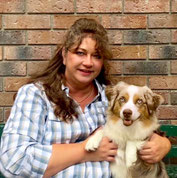 Trina Ulven
Trina has been with our staff since the fall of 2019.  She lives in Big Lake with her husband, her 2 girls, her dog Mocha (pictured) and her cat. She is a real dog lover and has owned many dogs including 4 shelties, a beagle, an American Eskimo, a pekingese, a collie, and her current mini Aussie.  Trina says she feels a real connection with dogs and believes they are very therapeutic and calming.  She has had previous kennel experience working at a facility in Sabin, MN.  When not spending time with your dogs, she enjoys being outdoors, hiking, reading, and spending time with her family.  
Britt Mattson
Britt comes to us with a lot of animal experience.  She is a former vet tech who worked primarily with small animals and birds.  She is currently a volunteer at Ruff Start Rescue as a cat caretaker and occasionally as a member of the vetting team helping with Texas transports.  She is a participant in the Animal Humane Society Barn Cats program where she adopted 4 out of 7 of her cats.  Britt also has 3 dogs, a Senegal parrot, and a flock of chickens!  She lives in Milaca with her husband and likes to garden in her spare time.
Cameryn Allen
Cameryn joined our staff in February 2021.  She lives in Princeton on her family's hobby farm with many animals including chickens, ducks, horses, dogs, cats, goats, sheep, a donkey, an alpaca, and an indoor pig!  Cameryn has 2 personal pets - her dog, Kiwi, and her horse, Epona, who she adopted in 2020 from MHARF.  She grew up around many dogs at home and at her mom's grooming shop in Zimmerman, Little Suzie's Pet Parlor.  Her love of horses inspired her to start her own business as a farrier.
Abby Mullen
Abby joined our team in July 2021.  Her enthusiasm, cheerful spirit, and love of dogs is very evident.  She lives in Princeton with her family, her two rescue dogs, and two rescue cats.  Her family has been fostering dogs through Ruff Start Rescue for about 4 years and has helped over 30 dogs find their 'furever' home.  They have had dogs of every size and personality in their home and Abby enjoys seeing each one of them flourish as they gain confidence and learn to trust people.  She says it gets a bit crazy at times but she wouldn't trade it for the world.