Our home is just like your home.
Just Like Home Staff
About the Top Dog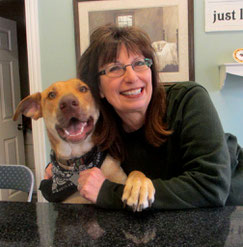 Susan Engelsman
Owner of Just Like Home Canine Bed & Breakfast Inc. has been a dog lover and owner all of her life. She has trained dogs and had her own dog grooming business for many years.
The kennel was designed by Sue's husband, Andy, and opened in May of 2011.  Since that time, Sue has been hard at work making her canine bed and breakfast the best it can be for the dogs in your life.
Experience Counts
Business Owner
Dog Trainer for 9+ years.
Dog Groomer
Raised 10 puppies to completion for Can Do Canines Service Dogs, and fostered many puppies for them 'short term'. 
The Engelsman household is home to five 'animal kids'  - Cowboy, a mixed breed; Knight, a black german shepherd; Janie, a little beagle/terrier mix, and Jodi, a doberman.  Jodi is the newest addition just recently adopted in July 2015.  She is a rescue who was badly abused to the point she needed a leg amputated.  She has been a great addition to the family and loves playing with all the kennel guests. Last but not least, there is "Meany" the cat.
Nicole Ahner
Nicole has lived in Zimmerman for the past 20 years and is a graduate from the Minnesota School of Business.  She is a certified vet tech and is the proud owner of two cats.  She recently lost her beloved Boxer of many years, Nala.  Nicole and her husband, Richie, have one son.  Besides working part time at Just Like Home, Nicole  has her own business as a Pure Romance consultant.
Susan Lehr
Susan and her family live in Princeton, Minnesota where she spends her free time working with kids in 4-H.  She helps them train their own dogs in showmanship, agility, and ralley obedience to prepare them for participation in county and state fairs.  She has shown her own Great Danes in showmanship at many dog shows. Susan has several pets of her own, to mention just a few - ferrets, goats, dogs, cats, a snake, and a guinea pig.  Susan loves spending time with all the dogs here at Just Like Home, making sure they get all the love and attention they deserve to make them feel at "home" and insure they have a great experience while here.
Sara Donnelly
Sara is one of the newest additions to our staff.  She and her husband, Pete, recently moved to Elk River, after living in Princeton for 10 years. They have one 14 year old son, 2 very active dogs, and one lazy cat!  She has always loved "anything dog" and really enjoys caring for and playing with the dogs here at Just Like Home.  In her free time she enjoys walking, fishing, snowboarding, 4-wheel riding and anything outdoors! 
Ann Sheehan
Ann joined our staff in the fall of 2014.  Her knowledge and love of dogs is a great asset to us.  She is the proud owner of 7 dogs, 5 horses, and 1 potbelly pig!  In the summer, she donates one evening a week of her time where she and her horses work with kids in the special olympics.  In her spare time, Ann enjoys many outdoor activities, including running.  She has competed in many races.
Cowboy
Cowboy has been on "staff" since October 2011.  He came to Just Like Home as a rescue dog with MARS (Midwest Animal Rescue), waiting to go into a foster home.  After a month of waiting and no one stepping up to foster him, Sue and Andy adopted him.  Cowboy helps all the doggy guests feel at home here.  He loves to play with all the dogs, big and small, and returning dog guests are always happy to see at least one familiar face. He enjoys his "job" and is happy to work for 'kibble'!